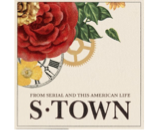 S-Town, the new podcast from Serial Productions, has surpassed 40 million downloads worldwide. The seven-episode series debuted in its entirety one month ago, and the download milestone makes the show the biggest rollout for a podcast to date. The show's binge-listening approach makes the success all the more impressive.
"We made several decisions that we knew were counter-commercial," executive producer Julie Snyder said. "Putting the show into a new distribution feed rather than the Serial feed, which is sitting there with millions of subscribers. Releasing all the episodes at once, which could zap word of mouth and weekly anticipation. Giving the show a super weird name. Not to mention that the production itself is arty and not that suspenseful in the traditional sense. So the fact that it was still so successful gives us confidence that we can be bold and experimental in both content and release — that the audience will follow us when we try new stuff."
The show is the second title from Serial Productions, a business venture from the team behind the wildly popular show Serial. The first season marked the first time a podcast won a Peabody Award, and its success has played a role in bolstering the current interest in the medium.