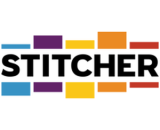 E.W.Scripps, the media behemoth and parent company of Stitcher, is reported to be shopping the podcast company to potential buyers.
The first source of this rumor appears to be The Information, which sources "people familiar with the matter." That publication infers that Scripps hopes to take good cash value from its investment in Stitcher, in a time of heightened investor money flow into podcasting. The article refers to "… a surge of interest in the podcasting industry from companies such as Spotify and satellite radio giant Sirius XM.
Scripps acquired Stitcher from previous owner Deezer in June, 2016. (See our coverage HERE.) At that time, Stitcher was bundled into Midroll Media, which Scripps had bought the previous year. The rationale was to deploy one of the most popular listening apps (Stitcher) at the service of Midroll's podcasts, including comedy shows produced by subsidiary Earwolf. Midroll Media was (and still is) the B2B podcast sales division of the organization, negotiating ad sales for its owned podcasts and other shows. Midroll Media is generally considered (and certainly considered so by us) as a podcast ad-sales pioneer.
That hierarchy — Earwolf, Midroll, Stitcher — was later overturned, when Stitcher became the public-facing brand of the whole system. That made sense, as Stitcher was more recognized publicly than Midroll Media, and better represented the organization's holistic mission of creating, representing, and distributing podcasts.
Along this eventful path, two of Stitcher's top executives — Lex Friedman and Korri Kolesa — were recruited by podcast tech company ART19, and departed simultaneously. soon after, Sarah van Mosel was lured from her position at Market Enginuity to become Stitcher's new Chief Revenue Officer, where she still resides. (All three are frequent RAIN Summit speakers.)
In the rumor's wake, finance site Seeking Alpha reports a Scripps stock bump of 3.6% yesterday, after financial analyst company Benchmark approved the shopping expedition.