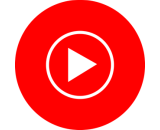 The Google/Alphabet empire has been rumored to be planning consolidation under its sprawling umbrella of music properties. The latest insider info hints that the transition to phase out Google Play Music in favor of YouTube Music.
Sources told 9to5Google that Google has rolled out an internal beta of YouTube Music that includes a new feature that listeners have had in Google Play Music. The new version includes an uploaded music library/cloud locker that would let audiences use the YouTube on-demand features alongside listening to tracks they own. This library option harkens back to the original purpose of Google Play Music. And, if it launches to the public, would be another way that YouTube Music is being updated to potentially replace Google Play Music.
The first signs of the plan to replace Google Play Music with YouTube Music appeared back in 2018 and further signs have kept cropping up in the interim. Sources told 9to5Google that the timeline for the actual transition is getting close. "One source suggested we could see Google Play Music users invited to port over their libraries within the next few months, with Google Play Music shuttering completely in the second half of 2020," the publication said.