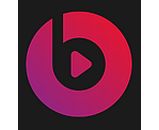 Today, the big buzz is about Beats. Apple has one of its press events happening on Monday, but the rumors are that the company's new vision for Beats Music will not be making its debut at the Spring Forward event. Instead, it seems that the introduction will happen in the summer, at Apple's WWDC conference.
The main source for the current speculation is 9to5Mac, which often is responsible for breaking Apple news. The intel about the service sounds the same as the last time we heard from 9to5Mac about how Apple has rebranded and revamped the streaming platform. According to the new report, the streaming service will allegedly have its price tag dropped to $7.99 a month. It's also expected to incorporate some of the infrastructure of the original Beats Music, including curated playlists, cloud-based libraries, and customization.
We've been hearing more news from Cupertino recently after a relatively quiet winter. The company made waves last month by hiring popular DJ Zane Lowe away from the BBC. Considering the company also still has the musical star power of Trent Reznor and Dr. Dre, that's a lot of talent under one roof to make the signature curation happen.