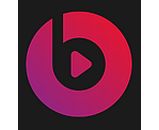 Unnamed sources told the Wall Street Journal that worldwide music sales from the iTunes Store fell 13%-14% since the start of 2014. A single individual also told WSJ that Apple is in the process of rebuilding Beats Music and will relaunch the service next year as part of iTunes.
There hasn't been any formal word from Apple about its plans for Beats, but that hasn't stopped the rumors from swirling about their joint future. The company hasn't even confirmed the data about declining music sales; all it has revealed is its total sales from iTunes, which includes apps, movies, and books. (That figure totaled a healthy $4.6 billion for the third quarter, up from $4.3 billion in the year-ago period, for reference.) The 13%-14% drop quoted in WSJ seems realistic based on other confirmed data about declining digital music sales as streaming and subscription services increase in popularity.
Whether or not its own music store sales have decreased, for Apple to fold Beats into one of its existing music products seems like the requisite next step. The details about how and if the two brands will co-exist, as well as the price point for their on-demand service, are still hazy, but Apple would seem to have few choices other than to bring Beats' streaming expertise into the iTunes ecosystem.