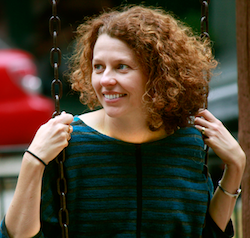 BuzzFeed Audio has partnered with audio messaging platform Rolltape to create new engagement tools for its Another Round podcast series. The new tool centers on Rolltape Radio, which allows anybody to create and share podcast-style audio clips from their phones. With this integration, Another Round's listeners can more directly respond to episodes and interact with the hosts.
RAIN News spoke with Jessica Taylor, co-founder and CEO of Rolltape, about her company and the BuzzFeed partnership. A few key words kept popping up in the conversation: relationships, story, and community. Rolltape is working to make audio more of a two-way street between the show and its listeners, instead of the usual one-way monologue, and BuzzFeed may be just the first step.
As with so many audio-centric companies, Taylor pointed to the public response to Serial as a sign that audio had an important role in how people communicate. "Everyone felt like they had a personal relationship with Sarah Koenig," she said. "This was really people recognizing that they missed and yearned for longer-form storytelling."
Rolltape's main product is audio messaging. People can record and share audio clips for each other, sort of an asynchronous phone call. Last month, the company debuted Rolltape Radio, which allows for public, social shares of a recording. That feature is the basis for the new BuzzFeed partnership.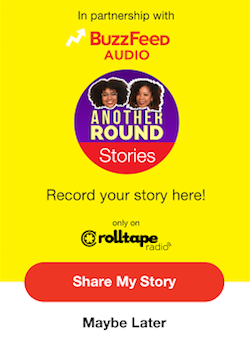 Many of the Rolltape team members are fans of the Another Round show, and Taylor noted the hosts' ability to create community as one of the main appeals in pursuing a partnership. "They've done an incredible job creating community by posing questions, asking listeners to share their stories," Taylor said. "This is going to give [them] an even better channel to build community with listeners." Another Round has long encouraged its audience to get involved, either by calling a phone line or by recording their own clips to send in. The Rolltape partnership will ensure better sound quality and more simplicity on the production side, but also opens up interactions between audience members. "In the past it was just one-way back to the producer," she explained. "Now the listeners are going to get to hear each other's stories."
The BuzzFeed deal is a pilot test, but Rolltape is exploring other ways to make its service available to brands. It also has plans to offer analytics services with insights into engagement with audio clips. That function is still in development, as is a version of the app for Android.