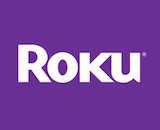 Roku is elbowing its way into the voice and smart speaker space. The company, best known for its streaming video set-top boxes, announced that it plans to launch its own voice assistant this year.
Roku devices can currently be used with voice controls, but it requires the companion app or remote to do so. The Roku Entertainment Assistant will use natural language processing to complete requests, even if the TV is off when the query is made. Roku executive Mark Ely told The Verge that the assistant will only be focused on entertainment functions, and will not offer skills such as checking the weather or conducting web searches like Alexa, Siri, or Google Assistant can. The platform is expected to roll out as a free software update for all existing Roku TVs and streaming media players when it is completed.
Also, Roku said it is expanding its licensing program to include soundbar and smart speaker manufacturers. That would open up its existing device line to be used by voice controls from third-party smart speaker systems. The move indicates that Roku is taking precautions to keep its brand and products relevant as more homes bring in voice, smart speaker, and smart home technology.