Roger Lanctot is Associate Director of Strategy Analytics, and a thought leader in the connected-car space. He is an influential voice in the field of automotive infotainment systems, and safety, in cars of the present and future. This guest article was originally posted at Strategy Analytics. 
---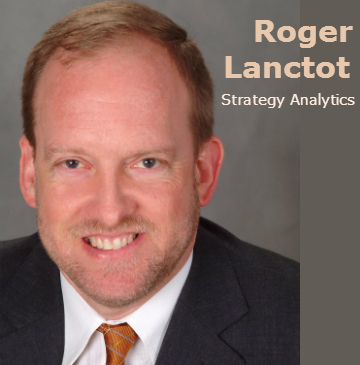 What if you were a car maker and I told you I had an app that would work with existing hardware in a car to deliver – at no cost – local (and national and international) news, weather, sports and traffic information along with a wide range of curated music and spoken word content? Sounds incredible, right?
What if I told you the app would also provide emergency alerts and would use an existing network with ubiquitous coverage that would work in your car, your home, at work and online? And what if that app were capable of delivering detailed traffic reports including information regarding the causes of backups and the status of the local response?
What if I told you the app would work simply with existing controls in the car without distracting the driver?
That is exactly what the existing car radio is today: a free ad-supported application with location-relevant content and services.
But some press reports in 2014 suggested that the AM/FM radio's grip on the dashboard was more tenuous than many realized. GM's decision to remove HD Radio from five 2015 model-year vehicles – the Chevy Traverse, Silverado and Impala and the Buick Enclave and Regal – had observers proclaiming the premature demise of HD Radio. This report came on the heels of BMW's removal of the AM band from the BMW i3 due to interference from the electric motor.
The radio at risk
Many of the competing alternatives to the car radio are working hard to replicate all or part of the contextual AM/FM content delivery experience via a cellular IP connection. Those alternatives include but are not limited to Aupeo, TuneIn Radio, Aha Radio, Stitcher, Rivet Radio, iTunes Radio and OmnyApp to say nothing of the streaming audio contenders Pandora, Beats, Rdio, Amazon Cloud, Rhapsody, Spotify, Deezer, Douban, and a growing roster of competitors around the world.
Cars may be losing their CD players and traditional rearview and side mirrors, but cars will definitely have radios in 2015. The only problem is that you may not be able to find the radio in your new or rental car.
The growing variety of in-dash systems and smartphone integrations are making the traditional AM/FM radio hard or harder to find. A study released earlier this year by Digital Radio UK intended to assess the usability of digital radio and the future for radio in connected cars found:
30% of the cars (in the study) had a system to integrate the smartphone with the dashboard
100% of manufacturers have developed their own proprietary connected system
100% of manufacturers are working with Apple on CarPlay, Google on Android Auto, or both
50% of manufacturers are working with MirrorLink
Internet radio can have up to eight (8) menu layers to find a station
Internet radio suffered from poor coverage and buffering
In connected cars "Radio" will be used to describe audio services that aren't broadcast radio
The Digital Radio UK study concluded:
Consumers could find it harder to find broadcast radio
Internet radio can be complex to use and could cause driver distraction
Broadcasters and vehicle manufacturers should develop a new radio experience for digital dashboards
The study – The Digital Dashboard Audit, November 2014 – offers a five-point action plan for car makers to coordinate their digital dashboard development efforts. Of course, the issue in the UK goes beyond the analog AM/FM experience.
(The Digital Dashboard Audit contrasts with competing reports regarding the use of LTE wireless networks to deliver radio content. These other studies – Teracom in Sweden and other companies – envision a complete switchover to wireless delivery from broadcast with all the related costs and burden on the LTE network. An example can be found here: http://tinyurl.com/q6pqzlc – "LTE Broadcast – The Next Hyped Broadcasting Challenger")
Digital radio to the rescue
The UK is in the forefront of a pan-European effort to adopt digital radio. Norway, Denmark, Switzerland and the UK are the furthest along in this effort, which is expected to ultimately include a shutdown of the analog network in some countries.
The UK is closely monitoring adoption of and the amount of listening time devoted to DAB+, the prevalent digital standard in use in Europe. According to data from CAP Automotive Ltd., the monthly car registration volumes by digital radio option status and availability show 60% of cars registered in the UK in Q3 of 2014 with standard fitment of digital radio technology.
Germany and The Netherlands have launched DAB+ services with eight other European countries launching regional DAB+ broadcasts including France, Italy and Sweden. Australia is also a DAB+ leader. This is in contrast to the U.S. where HD Radio technology has been widely adopted by all car manufacturers, 2,200 broadcasters with more than 1,500 multicast stations transmitting to the more than 19M receivers that have so far shipped.
Digital radio is arriving globally just as IP-delivered content via connected smartphone apps are hitting the market. The challenge for car makers is twofold: distraction and confusion. The temptation for some car makers may be to throw the AM/FM radio out altogether.
Analog AM/FM is facing challenges even under the best of circumstances without an existential threat from IP-delivered options. The quality of the AM signal in the U.S. continues to deteriorate due to increasing interference from other signal emitters, such as power lines, and some listeners complain that even analog FM reception quality has deteriorated.
Any radio station in a storm
The deterioration of radio broadcast signal quality is significant because radio is the original emergency communication medium. Radio is the one means of communication that is considered to be ubiquitous and widely and freely used throughout the world. When the cell towers failed during recent hurricanes in the U.S., the radio signal was still there.
Radio is also a low-cost solution for car makers, which may be why it isn't taken more seriously. But car makers, like governments trying to send emergency communications, have a stake in the preservation of radio.
In every city around the world it is the radio broadcasters that deliver real-time traffic reports based on traffic reports from public authorities, cameras, helicopters and traffic spotters. Companies looking to deliver traffic, navigation and routing solutions ultimately turn to the broadcasters to source curated traffic incident information to support RDS-TMC and, for digital broadcast, T-PEG traffic services.
The challenge for broadcasters is to seize the reins of innovation in 2015. Consumers remain fans of broadcast radio content, but simply can't find it as easily in connected cars as they once could.
The relevance of radio
The challenge for car makers is to recognize the importance of free over-the-air radio and preserve its privileged place in the dashboard. In others words, car makers should be careful not to become too dazzled by the app-oriented frenzy associated with connected cars. Sometimes, in fact most of the time, drivers just want to listen to the radio.
The fifth recommendation of the Digital Radio UK study was: "Develop an easy to use, open standard, hybrid (broadcast/IP) radio experience for new connected car dashboards." This recommendation refers to efforts to "switch on" the FM chipsets already available on most mobile phones to enable such a hybrid experience. In fact, let's make sure those are digital radio chipsets. Companies such as Sprint and Emmis Communications are working hard to expand the adoption of hybrid radio in the U.S.
Through the adoption and promotion of digital and hybrid experiences, the humble radio can retake the innovation initiative in 2015. Radio needs to be everywhere that consumers are, including on their mobile phones. Car makers need to be reminded of the vital source of location information generally and traffic information in particular that the radio delivers – for free and without distraction. Without concerted effort we will continue to have the radio relevance discussions in 2015 that we had in 2014 – when we ought to be putting the debate to bed for good. The next headline should read: Radio Forever!