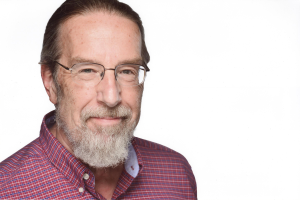 Rich Dalton, a 45-year radio veteran known in St. Louis as "Radio Rich," whose picture appeared on the cover of Rolling Stone, has signed on as Program Director and anchor host of Our Musical Roots, a St. Louis pureplay Internet station.
We spoke with Dalton by phone. "We want to make Our Musical Roots the best Classic Rock music stream in the world," he said of the collaborative vision.
Dalton came from KSHE HD2, where he served as Program Director, and also weekend host of the primary KSHE signal. The HD2 job was volunteer work until about a year ago — that notwithstanding, Dalton told us that he loved the freedom of programming without any executive interference. "I never missed a single minute in seven years," Dalton said. (He is receiving a salary at Our Musical Roots.)
Dalton has been in radio since 1968, mostly in St. Louis plus a stint in L.A. A Classic Rock veteran, he was on the air when The Beatles were together, saw The Doors and Jimi Hendrix play, and met Janis Joplin.
Rich Dalton did not immediately think of migrating to Internet radio after leaving KSHE, and he was critical of broadcast radio when reflecting on that period. "I didn't quickly realize I was not going to seek another commercial radio job. In the era of the Internet, when people can get any music they want at any time, when people are walking around with thousands of songs in their phones, what is the role of a commercial radio station? I believe that commercial radio is doing a very poor job of addressing that. I believe they are going in the wrong direction of tighter playlists. They are definitely struggling."
Dalton considers himself a music person, not a radio person."Radio is just my medium," he told us.
He connected with Our Musical Roots through a friend who works at the Internet station, with whom he had worked in the past. John Stephens, founder of Our Musical Roots, was also a listener to KSHE, so he  Rich Dalton's work. "We had an instant sympatico," Dalton said.

RAIN News readers might remember Our Musical Roots from last September, when the station was denied a Readers Choice newspaper award, despite having the votes, because the paper ruled that Internet radio was not "real radio." The station staff mounted a friendly demonstration, picketing outside the newspaper office.
John Stephens told us that since Rich Dalton joined the station and began hosting his six-hour morning show, daily listenership to Our Musical Roots has set new station records. The station has underwriter support, in the NPR model. Commercial advertisers are lined up, according to Stephens, with the campaigns temporarily on hold to maximize the impact of new marketing that's in progress. "We will be in the black in May," Stephens told us.