John Stephens didn't expect his radio station to win the "Best of Saint Louis" reader poll. But after Our Musical Roots, his classic rock pureplay, got a lot of votes in the Riverfront Times annual survey, he had some questions. We spoke to John Stephens on the phone, and got the whole story.
"It's an annual poll that the newspaper has done for as long as I remember. You vote online for St. Louis' best restaurants, bars, local bands and much more, including best music radio station. You vote online, and the paper comes out with the top five vote-getters in each category. When the top five list came out, I saw that we did not make the list."
Stephens wasn't surprised or offended at that point, but he was curious about whether Our Musical Roots received any votes as a result of on-air promotions and a social media vote-getting campaign.
"I called the publication and talked to an editor. He went through the data and noticed that we had a lot of votes. In fact, he said, we should have made the list, and would have been near the top of the five finalists. I said, 'What are you going to do about it?' He said the list was already posted online, and didn't see how the list could be changed."
Then, according to John Stephens, the editor made a now-infamous remark: "I guess it was decided that your station wasn't a real radio station."
"It's a ridiculous position for a so-called alternative newspaper to take." –John Stephens, Founder, OurMusicalRoots.com
Stephens tried to talk with the paper's chief editor, but said his emails and phone calls were not returned.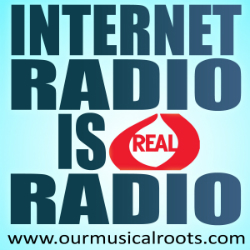 "So we started talking about it on the air," Stephens told us, "and we gave out the editor's email address. The listeners started emailing him. We put all this on our Facebook page. I called and emailed the editor again; he didn't respond. I thought to myself, 'What would I have done in 1971, when I was a junior in high school?' Well, I would have put on my paisley pants and protested.'
After clearing the plan with local pollice and the owner of the building which houses the Riverfront Times offices, John Stephens announced a peacful protest with picket signs declaring that Internet radio is real radio, to take place on Wednesday of this week. Listeners are encouraged to join in — in absentia if necessary, by sending a picture of one's picket-wielding self to the Our Musical Roots Facebook page.
We tuned into the station for a couple of hours on Monday, and nearly every voice break promoted the protest.
"The protest could be 12 of us, and it could be a hundred people," Stephens told us. "We don't know."
We'll know soon enough. John Stephens promised to follow up with photos and video. In the meantime, take the RAIN Poll: Is Internet radio "real radio"?