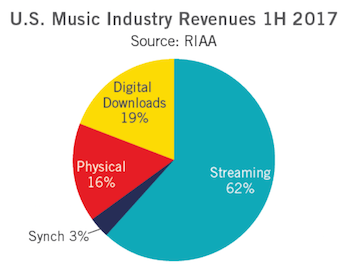 For some time now, the music industry has been tracking trends of increased revenue from streaming as income from physical formats and downloads wanes. The RIAA H1 2017 data shows that the first half of this year continued those trajectories.
Streaming secured a 62% share of the first-half revenues, marking solid growth from H1 2016 where the share was 47%. Total streaming revenue for the period was $2.5 billion, up 48% from the year-ago period.
Paid listening is the largest portion of streaming revenue, and the contribution of subscriptions has steadily risen since 2015. There were 30.4 million paid music subscriptions during the period. For H1 2017, paid subscription revenue totaled $1.712 billion, compared with $1.067 billion in H1 2016 and just $474 million in H1 2015.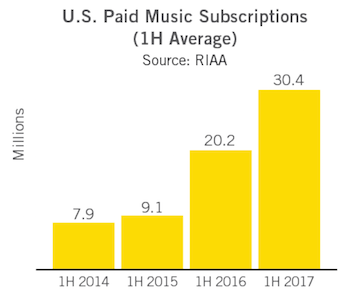 The RIAA noted that of the subscription revenue total, $225 million is generated by limited tier services such as Pandora Plus and some Amazon offerings. Those limited subscriptions are not counted toward the total number of subscriptions, meaning there are additional listeners who did pay for their music access during the period.
In the first half of this year, ad-supported on-demand listening provided $273 million in revenue while digital and customized radio delivered $493 million. These results marked a record high for each segment of the streaming economy: paid streaming, ad-supported streaming, and radio types.
Digital downloads and physical formats both posted shrinking revenue contributions from the previous year, reporting 19% and 16% shares of total music revenue, respectively. Digital download revenue has been in constant decline since 2013, landing at $757 million in H1 2017. Physical formats showed just a 1% decline in revenue to $632 million.
Estimated retail revenue from recorded music in the U.S. reached $4 billion, up 17% over the year-ago half. Based on wholesale value, the first half saw a 14.6% revenue increase to $2.7 billion.