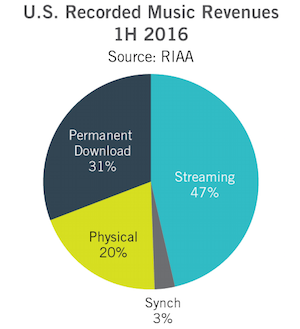 The RIAA has released its mid-year report, complete with data on the music industry's first six months of 2016. The U.S. market's H1 period for 2016 echoes the trend we've seen in many markets worldwide of rising results for streaming, subscriptions in particular, as downloads and physical sales decline.
Digital revenue rose from $2.29 billion in H1 2015 to $2.66 billion in H1 2016. Between those two periods, paid subscription streaming revenue more than doubled from $478.6 million to $1.01 billion. That means subscription streaming was a third of the industry's revenue, with the number of paid subscribers growing 101% to an average of 18.3 million.
Ad-supported on-demand streaming revenue increased from $158.2 million to $195.4 million. SoundExchange distributions for the first-half period also grew from $387.2 million to $403.4 million. All streaming sources held a 47% share of the industry revenue. The revenue total across streaming rose 57% on-year to $1.6 billion.
The growth in streaming revenue offset the declines seen in digital downloads of singles and albums, as well as the sales drops for CDs and other physical formats. Wholesale revenue for the entire U.S. music market edged up from $2.3 billion to $2.4 billion.