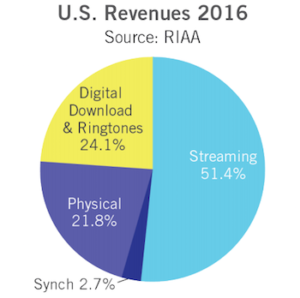 The RIAA report presents a snapshot of the U.S. recorded music market. For 2016, that photo puts streaming front and center. Streaming platforms generated the majority of the U.S. music industry's revenue during the year, securing 51% of the industry total. That milestone performance included revenue from subscription access, lean-back radio-style services, and ad-supported listening.
Overall, U.S. recorded music industry revenue in 2016 totaled $7.7 billion. The result marked healthy growth of 11.4% over 2015. The share held by all streaming sources rose 68% since 2015 to $3.9 billion. The slice of the pie held by streaming has exploded since 2011, when it secured a share of just 9%.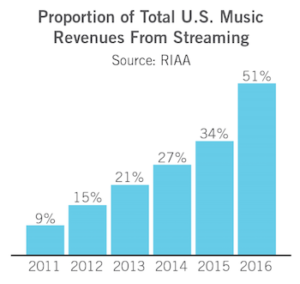 Subscriptions were the central driver of growth for the overall streaming umbrella. Revenue from subscriptions more than doubled last year, spiking up 114% to $2.48 billion. The number of U.S. music subscribers jumped in kind, rising 109% to an average 22.6 million for the year. Services new and old contributed to that growth. It was the first full year of business for Apple Music to be tracked by the RIAA results. The market also saw launches of multiple new subscription options from companies like Pandora, iHeartRadio, and Amazon in the past 12 months.
Distributions managed by SoundExchange posted a more moderate increase, up to $884 million for 2016 from $803 million in the year prior. Ad-supported on-demand streaming revenue also saw a small amount of growth, rising from $373 million in 2015 to $469 million in 2016.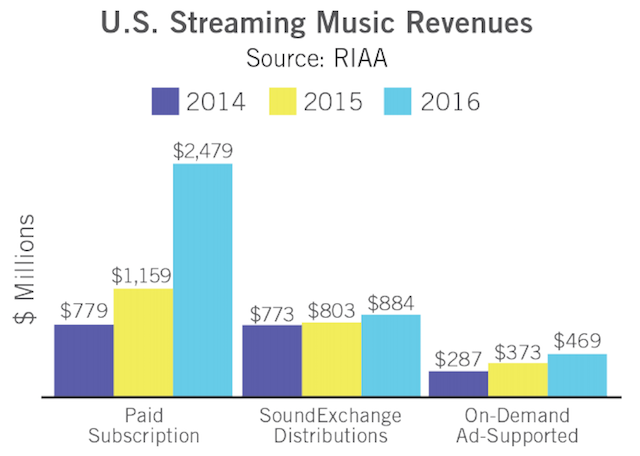 Digital downloads and ringtones held on to a 24.1% share of the total industry revenues. Although their share was still about a quarter, downloads of albums and singles have been steadily declining since 2013. Album download revenue reached $876 million and single download revenue was $907 million.
The year 2016 was another tough one for physical formats, which only grabbed a 21.8% share of the total market. Physical format revenue dropped 16% to $1.7 billion. CDs posted a revenue drop of 21%, while the niche vinyl renaissance continued with 4% growth for the year.
Although the overall story for this year sounds like a victory for the adoption of streaming, RIAA CEO Cary Sherman wrote a blog post tempering that excitement. "As excited as we are about our growth in 2016, our recovery is fragile and fraught with risk," he wrote. "Much rides on a streaming market that must fairly recognize the enormous value of music." He pointed to the sluggish growth in ad-supported streaming in particular as a source of concern. "It makes no sense that it takes a thousand on-demand streams of a song for creators to earn $1 on YouTube, while services like Apple and Spotify pay creators $7 or more for those same streams," he wrote. Sherman joined the calls for stronger copyright laws to ensure payments for music access.