Kurt Hanson, RAIN Founder and CEO of AccuRadio, attended Radiodays Europe (RDE) this week in Amsterdam for RAIN, part of the media partnership between RAIN and RDE. This is Part 1 of his on-the-ground report. Part 2 coming soon.
---
Facing many of the same issues — both opportunities and threats — as broadcasters around the world, over 1,500 public and commercial radio broadcasters from over 60 countries gathered at the massive RAI conference center in Amsterdam last week for what the world's largest annual radio conference, Radiodays Europe, covering topics including broadcasters' attempts to convert to DAB+, podcasting, competing with Spotify and other new sources of audio entertainment, and technological advances like smart speakers and in-dash infotainment systems.
Pictured below: A slide from a presentation on "Data-Driven Audio Advertising" from Frank Bachér, Managing Director, RMS (Germany):
---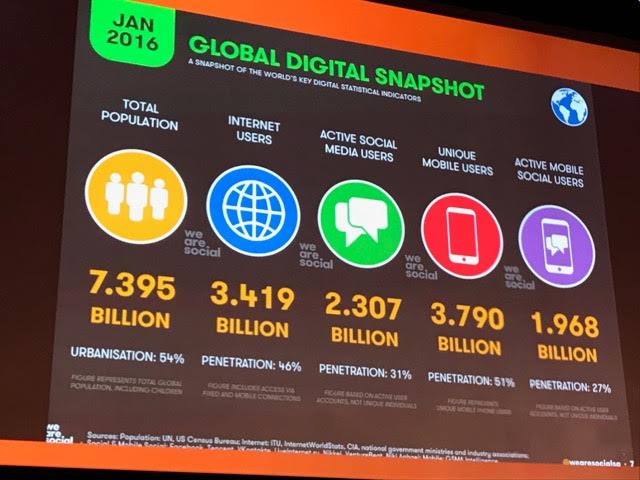 ---
Radiodays Europe started as a series of conferences for Scandinavian public broadcasters, but expanded its scope after the U.S.'s NAB quit holding its annual European Radio Conference. Like that conference, Radiodays Europe travels across the continent, with past years' events having been held in Paris, Milan, Dublin, Berlin, and Barcelona, and next year's event scheduled for Vienna.
The event seemed to have full run of the entire huge RAI conference center complex in Amsterdam, about 20 minutes south by metro or tram from the city center, and very modernistic in a '70s, original series "Planet of the Apes" kind of way (below).
---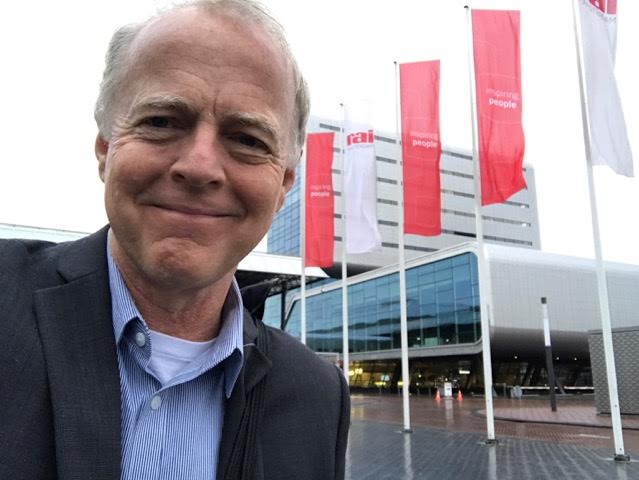 ---
The event opened with introductory speeches from Graham Dixon, Head of Radio for the European Broadcasting Union (EBU) and Stefan Möller (pictured below), President of the Association of European Radios (AER), based in Finland, who noted, "Audio has never been listened to more than it is today, with streaming services, audio on-demand, and live radio." Möller observed, "Radio is our grown-up child that has decided to have kids of its own" and quoted U.S. broadcaster Bud Stiker: "If I had known how fun it was to have grandchildren, I would have had them first."
---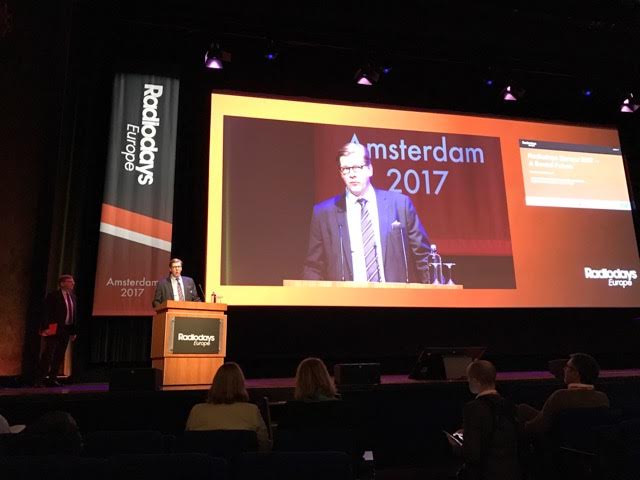 ---
Amsterdam, by the way, proved to be an excellent and affordable choice of locale, attracting a good mix of broadcasters, both public and commercial, from all Scandinavian countries, the Netherlands, Germany, the U.K., and elsewhere — albeit virtually no webcasters and very few attendees from outside of Europe, except for those who were vendors or presenters. (Pictured below: The view from my $100/night hotel room, just a block from Amsterdam's Centraal Station.)
---
---
NPR's Joel Sucherman (pictured below), Head of Digital Products at NPR, was one of several U.S.-based presenters. Sucherman spoke about the need for fact-based journalism in a "post-truth" world and showed NPR's live fact-checker as an example of his organization's recent efforts.
---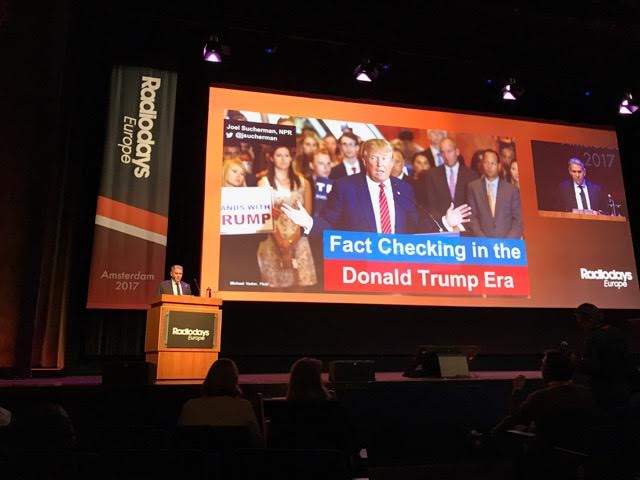 ---
Simon Gooch (pictured below), newly named Director of Innovation for the public broadcaster in Sweden, Sverige Radio, quoted a Gartner prediction that 30% of web browsing will be done by screenless user interfaces (e.g., voice command as available the via the blue button on this Xfinity remote control) by the year 2020.
---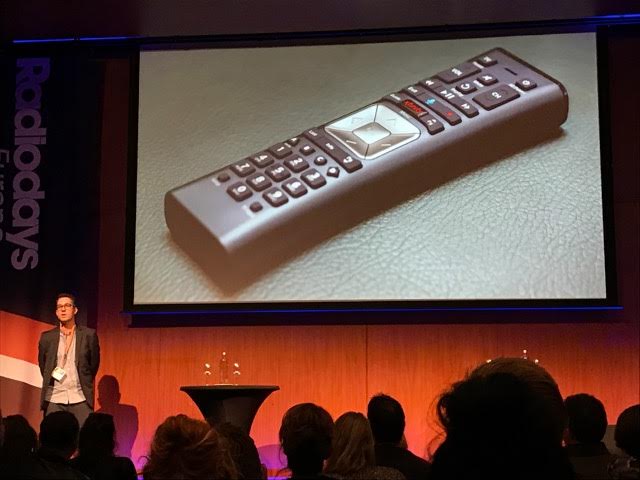 ---
Look for Part 2 in the coming days!
---