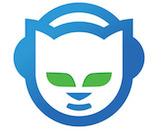 Rhapsody announces a partnership with MQA, an audio technology company which creates high-resolution audio in file sizes small enough to stream, to offer high-quality audio in its white-label "Powered by Napster" business.
Rhapsody International Inc. is the parent entity that includes the Napster on-demand music service for consumers, and the stream-enabling business branded as Powered by Napster. Perhaps the most recognized consumer service which is powered by Napster is iHeartRadio All Access, that platform's fully on-demand tier. Rhapsody's Powered by Napster platform service now offers partners the option to choose high-resolution and studio-quality audio for those who select MQA (Master Quality Authenticated) as their format of choice.
Powered by Napster is not a consumer-facing business, and therefore not as generally recognized as Napster. but it offers a robust and full-featured solution for building a consumer listening platform, a suite of technologies that includes music and media streaming and download infrastructure, applications, rights management, customer billing, royalty administration, and business intelligence.
"Powered by Napster brings new and innovative branded streaming music services to partners intent on transforming their customer experience. High-resolution audio is a powerful tool to have in our box," said Angel Gambino, Chief Commercial Officer of Napster. "Our work with MQA signals the growth of high-resolution audio streaming and quality becoming a bigger part of the conversation."