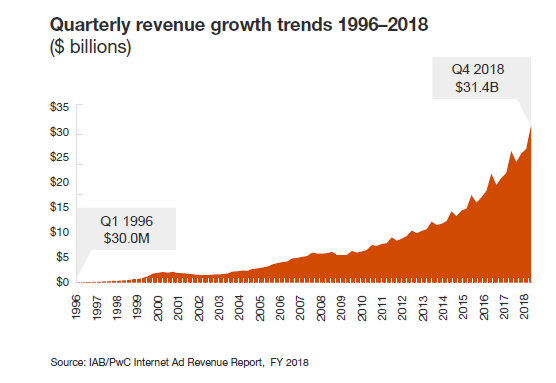 The Interactive Advertising Bureau (IAB) released its annual Internet Advertising Annual Report. In it, the accounting for digital audio advertising showed an escalation of 23% from 2017 to 2018, with revenue growing from $1.8-billion to $2.3-billion. Those dollars (in both years) represent 2% of total digital advertising — perhaps indicating a vast potential upside. For all its strides, digital audio has a lot of headroom for growth.
Overall, U.S. digital advertising revenues in 2018 reached an all-time historic high of $107.5 billion, exceeding the $100 billion mark for the first time. The 2018 number represents a 22% increase.
The IAB recognizes several growth drivers, and it is worth seeing the entire explanation:
"The report analyzes the drivers behind the dramatic growth, identifying that revenue stemming from eCommerce, including the emergence of the direct brand economy, has played a key role. With the rise of "social stories" as a tool to connect with today's consumers, social media was also pinpointed as motivating factor in significant investment—with storytelling now catching fire across platforms and brands. In addition, technological advances, ranging from virtual reality to voice to 5G, were recognized as drivers and expected contributors to a continued robust advertising environment."
the "direct brand economy" mentioned above has become an IAB focus; included in the D2C (Direct to Consumer) movement is a great deal of podcast advertising which uses host-read sponsorship messages leading to direct consumer response. Storytelling as a driver certainly plays out in podcasting, perhaps especially in branded podcasts. The IAB mentions "voice" briefly, but not unimportantly for those who believe we are leaning into a voice-controlled digital world.
Here is the main IAB category breakdown of 2018 digital advertising revenues:
Digital video on mobile devices continued its momentum, reaching $10.2 billion in full-year 2018, a 65% rise from full-year 2017 at $6.2 billion
Digital video ad revenues on mobile devices comprised 63% of all digital video ad revenues in 2018, up from 52% in the prior year
Digital audio advertising grew 23% to reach $2.3 billion, outpacing last year's full-year revenue of $1.8 billion
Social media revenue rose to $29 billion in 2018, an increase of 31% from $22.1 billion in the previous year
(IAB sponsors the IAB Internet Advertising Revenue Report, which is conducted independently by the New Media Group of PwC. The results are considered a reasonable measurement of interactive advertising revenues because the data is compiled directly from information supplied by companies selling advertising on the internet. The survey includes data concerning online advertising revenues from web sites, commercial online services, free email providers, and all other companies selling online advertising.)