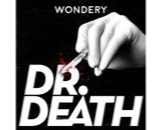 Podtrac shares monthly updates about top-performing podcasts and podcast publishers. Now, the analytics company has taken a broader view and shared its list of the top new shows of 2018. The chart is based on average U.S. downloads per episode across all listening devices.
The top new show was Dr. Death from Wondery. The podcast, hosted by Laura Beil, investigates neurosurgeon Christopher Duntsch and the failings of the health care system to protect patients who experienced complications from his supposedly revolutionary treatment.
This ranker showcases podcasts' ongoing ability to provide reporting that resonates with audiences, with several investigative shows spearheaded by established journalists making the list. In addition to Dr. Death, Wondery also took the second spot with Gladiator, a collaboration with The Boston Globe that examined the career and crimes of former NFL star Aaron Hernandez. Rachel Maddow's Bag Man for MSNBC was No. 4 and The New York Times' Caliphate podcast was No. 10.
The other shows on Podtrac's top 10 new podcasts of 2018 are:
Happy Face from iHeartRadio
Armchair Expert with Dax Shepard
WorkLife with Adam Grant from TED
This is Love from PRX
Unobscured from iHeartRadio
Oprah's Master Class from OWN