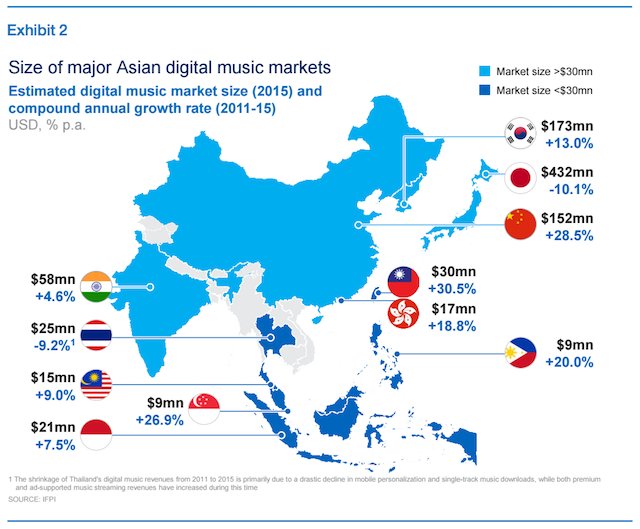 A new report from McKinsey & Company examined the streaming music industry in southeast Asia. The region has a range of digital music market sizes, with some large and firmly established while others are still on the grow. Across the area, digital music growth is happening faster than the global rate (8.8% a year compared with 0.4% a year between 2011 and 2015). Younger generations are driving that growth, with about half of 2015's music streaming revenue coming from listeners under 35. This demographic is more likely to consist of digital natives who want to find music on those channels.
Supporting those industry shifts, southeast Asia has been seeing increased Internet and smartphone penetration rates, faster Internet speeds, and cheaper data. These outside changes have allowed the local music markets to offer new features such as better localization and personalization of their music experience.
The report spotlighted a Chinese service called Joox, the latest music property from conglomerate Tencent, to show the importance of regional platforms in these markets. Joox is a freemium service targeting listeners in other Asian countries. It has been downloaded more than 50 million times in the past year. It already has larger reach in some of the up-and-coming markets than the international music products such as Apple Music, Soundcloud, or Spotify.
There are still some challenges to streaming adoption in Asia. One is the low average subscription revenue per subscriber in several of the nations. Whereas established western markets such as the U.S. and the UK pull in $13.70 and $16.20, respectively most of their local counterparts were much lower. Singapore was the highest at $13.50, followed by Japan at $6.40 and Hong Kong at $6.30. The weighted average for subscription revenue per subscriber in the southeast Asian markets was just $1.31. Piracy and a lack of affordable mobile data could be reasons for the slower uptake of paid music systems, but the business side also has some difficulties. Advertising on streaming platforms generates lower revenue and content costs are still high as they are in the west.