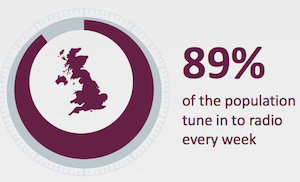 RAJAR data from the third quarter showed a continued leveling out of growth in radio listening. The Q3 2016 numbers found 89.1% of the UK population tuning in each week, a steady result from 89.3% in the year-ago period. The average listener is tuning in to live radio for 21 hours and 30 minutes each week.
Although overall radio audience has held static, digital radio has continued to post steady growth over the years. Digital's share of all radio listening has grown to 45.5% compared with 41.9% in Q3 2015 and 37.8% in Q3 2014. About 59% of the UK population listens to radio on a digitally enabled receiver each week.

DAB radios are the most common source of digital listening, holding 71% of all digital hours. By the latest metrics, 31 million adults own a DAB radio, up 7% from the year-ago period. Online radio has an 18% share of digital radio listening.
Mobile devices also continue to secure about a quarter of radio hours. Across all adults, 26.5% listen on a mobile phone or tablet at least once a month. That percentage rises to 37.3% for the 15-24 age group.