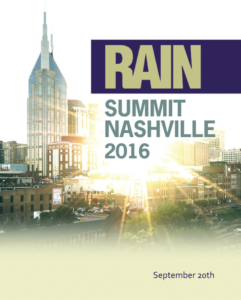 RAIN Summit Nashville and the RAB/NAB Radio Show are taking over Nashville this week. RAIN's event, which starts tomorrow and runs all day, brings industry-leading knowledge and networking to attendees gathered from over 120 companies.
Borrowing resources from the world's most famous music city, RAIN has invited label executives from Music Row to speak about how streaming music and online audio have influenced their businesses. Keynote speaker is Scott Borchetta, Founder/CEO of Big machine and star of American Idol's final two seasons.
Thirty-five speakers will appear on the the RAIN stage in this single-track event, including five students from the College of Media and Entertainment of Middle Tennessee State University, to explain what they listen to, where, how, and why.
Registrations are still open. CLICK HERE for a reservation.
Following is the day's complete agenda:
---
10:00 – 10:30 STATE OF THE INDUSTRY
RAIN Founder Kurt Hanson sets the stage with his State of the Industry address.
10:30 – 10:50 FIRESIDE CHAT
Eric Nuzum, Senior Vice President at Audible, a key player in on-demand audio, will discuss the present and future of digital audio.
10:50 – 11:30 PANEL: Podcast Forecast – What's Next?
MODERATOR: Steve Goldstein (Founder/CEO, Amplifi Media)
Sarah van Mosel (Commercial Director, Acast)
John Rosso (President, Market Development, Triton Digital)
Brian Landau (EVP, Digital Sales & Strategy, DGital Media)
Brendan Regan (Vice President, Content & Partnerships, audioBoom)
Brendan Monaghan (CEO, Panoply)
Podcasting is at an inflection point. High-quality content is flooding into the market, along with more sophisticated avertising technology to monetize programs in new ways. What are the challenges and opportunities in scaling the on-demand audio business to the next level? This panel of industry leaders will discuss audience measurement, the rise of brand advertising, and predictions for the next twelve months.
11:30 – 12:00 KEYNOTE
Scott Borchetta, Founder, President, and CEO of Big Machine Label Group. BMLG is the #1 independent label group in the world, and home to superstars Taylor Swift, Tim McGraw, and Steven Tyler. For the past two years Borchetta guided contestants on American Idol throughout the competition and signed winners Nick Fradiani and Trent Harmon. In this keynote interview, Scott Borchetta will discuss his groundbreaking strategy for building his business and breaking artists in the digital era.
---
12:00 – 1:05 LUNCH & RAFFLE
Raffle provided by Triton Digital. Be in the room for your chance to win a Sonos Play:5 Ultimate WiFi Speaker!
---
1:05 – 1:35 PANEL: Millennials Talk (About What They Listen To)
Made possible by the College of Media and Entertainment, Middle Tennessee State University
MODERATOR: Valerie Geller (Founder, Geller Media International)
Mary Hart
Halee Burris
Isaiah A. Rodriguez
Lucas David Wharton
Logan day
Late-teens and early-20s talk frankly about what they listen to, when, how, and why. It's a spotlight on the future of mainstream audio consumption.
1:35 – 1:55 RESEARCH: Playlisting: the New Radio?
Russ Crupnick, Managing Partner at research firm MusicWatch, brings a new study about how consumers listen to playlists. Are playlists the new radio? The new album? Perhaps both.
1:55 – 2:35 PANEL: The Digital Songstream – Music Success in the Era of Access
Sponsored by MusicRowSearch
MODERATOR: Larry Miller (Director, Music Business Program, NYU Steinhardt; creator, Musonomics podcast)
Ken Robold (EVP & COO, Sony Music Nashville)
Andrew Kautz (Chief Operating Officer, Big Machine Label Group)
Annie Ortmeier (Senior Director of Streaming & Digital Marketing, Universal Music Group Nashville)
Online music access has disrupted the recorded music industry for nearly 20 years. In the RIAA's report of the U.S. recorded music industry in 2015, streaming secured the largest share of industry revenue for the first time, exceeding music downloads and physical music sales. (The RIAA report for 2016's first half will probably be released just before RAIN Summit Nashville.) As streaming becomes a more substantial revenue driver for artists and labels, and threat turns to opportunity, how is the record industry gaining its footing in the "access era"? Listen to Nashville music label executives discuss how they turn challenge into opportunity.
2:35 – 2:55 RESEARCH: Share of Ear in the Car
Nicole Beniamini, Director of Research at Edison Research, brings new research that has never been seen publicly about how consumers manage audio in the car. In-car listening, and the development of connected car dashboards, are vital issues for tradition radio and online audio.
---
2:55 – 3:15 NETWORKING BREAK
sponsored by BRS Media
---
3:15 – 3:55 PANEL: The Digital Leadership Roundtable
MODERATOR: Michael Fischer (Director of Business Development, RAIN)
Tim Clarke (Senior Director, Digital Audience, Radio, Cox Media)
James Derby (Chief Strategy Officer, Federated Media)
Mark Preston (VPof Business Development, Bonneville International
Patrick Polking (Head of Digital Audio Business & Audio Strategic Development, ESPN)
As broadcasters move to "crowdcasters," what works? This roundtable of radio's digital leadership will point to success stories that inform how traditional radio is creating new revenue wins. From mobile and website strategies to simulcasting to podcasting, this panel is packed with experience and ideas.
3:55 – 4:10 PRESENTATION: Legal Snapshot with David Oxenford
One of the world's leading broadcast attorneys, David Oxenford will update the royalty realities of webcasting. What is the status of the Department of Justice "consent decrees"? What about pre-1972 music royalties? Nobody demystifies the complex music royalty landscape like David Oxenford, partner at Wilkinson, Barker, Knauer LLP.
4:10 – 4:30 CASE STUDY: Brand Advertising in Podcasting
The NY Life Insurance Company launched a brand campaign in two public-radio podcasts, and engaged a research company to gauge the results. In this fascinating interview, Andrew Werts of NY Life Insurance reveals the Key Performance Indicators of the campaign. If attracting brand advertisers is the next frontier in the evolution of podcasting, this study is pioneering.
4:30 – 5:10 PANEL: Selling Digital Audio Advertising in 2016 and Beyond
MODERATOR: Rockie Thomas (VP Business Development, AdsWizz)
Matt Cutair (CEO, AudioHQ)
Gabe Tartaglia (Gabe Tartaglia, Vice President, National Vertical Sales, Pandora)
Jay Green (Vice President of Digital

 Content Partnerships, AdLarge Media)

Mark McCrery (Founder & CEO, Podtrac)
What's happening at the intersection of supply and demand in digital audio advertising? What are the expectations that buyers bring to the table? How are audio publishers meeting those expectations, and supplying unique solutions? This panel of experts will discuss the priorities, methods, and technologies of involved in digital audio advertising. Moderated by Rockie Thomas, VP of Business Development, AdsWizz.
5:10 – 5:30 FIRESIDE CHAT: Susie Hedrick
Susie Hedrick, Senior Vice President of Sales, North America at WideOrbit, talks about the value of radio simulcasting on the web with Rob Kass, Vice President, Product Leadership – Digital Audio at Nielsen.
5:30 – 5:45 RAIN INTERNET RADIO AWARDS
THE 7TH ANNUAL INTERNET RADIO AWARDS. Hosts Kurt Hanson and Brad Hill announce winners is six categories.
---
5:45 – 6:45 RAIN COCKTAIL RECEPTION
The RAIN Summit Cocktail Reception! Sponsored by WideOrbit
---