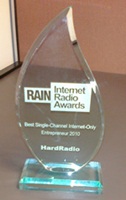 This week we are revealing finalists in the 7th Annual RAIN Internet Radio Awards. Today we are pleased to announce the advancing finalists in the "Best Overall Online Radio Service" category.
The single winners of all six categories will be revealed and honored at RAIN Summit Nashville on September 20, as the closing session of the day-long conference.
This category is for the online station/webcaster that provides the best overall online listener experience. Judges may consider programming, technology, popularity of the service, attractiveness of the app (web/mobile), ease of use, operational sustainability, integration of advertising assets (if applicable), and other criteria. Nominated services may be single-channel and multichannel "online only" operations or streaming broadcast stations.
Congratulations to this year's finalists (in alphabetical order):
Pandora: The leading non-interactive internet radio brand, Pandora serves nearly 80-million listeners a month, and contributes more than half of SoundExchange's music label royalty collections.
Slacker Radio: Slacker is personalized raio (U.S. and Canada) featuring hundreds of handcrafted stations, plus dynamically generated streams based on artist/song.
Spotify: Spotify is a multi-platform service used by 100-million listeners around the world.
Thanks to all of our nominees. The RAIN Internet Radio Awards recognize the achievements and the best practices of the internet radio industry.
RAIN Summit Nashville is the premiere knowledge and networking conference for the Internet radio and online audio industry and a partner event of The Radio Show. Scott Borchetta, Founder and CEO of Big Machine, will keynote the event. Join us for the industry's best knowledge sessions, the networking, the AWARDS, and the best cocktail party in the industry!