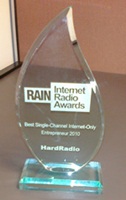 This week we are revealing finalists in the 7th Annual RAIN Internet Radio Awards. Today we are pleased to announce the advancing finalists in the "Best Overall Digital Strategy" category.
The single winners of all six categories will be revealed and honored at RAIN Summit Nashville on September 20, as the closing session of the day-long conference.
This category is for the broadcast station, broadcast group, or webcaster that has implemented the finest overall digital strategy. Judges may consider mobile, streaming, websites, downloads, video and/or other features. Pureplay (online only) services, broadcasters, and streaming broadcast stations are eligible.
Congratulations to this year's finalists (in alphabetical order):
iHeartRadio: iHeartRadio offers listeners instant access to thousands of live radio stations, Custom Stations featuring a catalog of more than 24 million songs spanning more than 830,000 artists and thousands of on demand podcasts.
PRX: PRX is the world's largest open marketplace of audio programming for public radio stations. It champions new voices, new formats, and new business models, advocating for the entrepreneurial producer. PRX won this category last year.
TuneIn: A listening platform for radio, internet radio, podcasts, original content, and news. the service specializes in streaming live sporting events.
Thanks to all of our nominees. The RAIN Internet Radio Awards recognize the achievements and the best practices of the internet radio industry.
RAIN Summit Nashville is the premiere knowledge and networking conference for the Internet radio and online audio industry and a partner event of The Radio Show. Scott Borchetta, Founder and CEO of Big Machine, will keynote the event. Join us for the industry's best knowledge sessions, the networking, the AWARDS, and the best cocktail party in the industry!