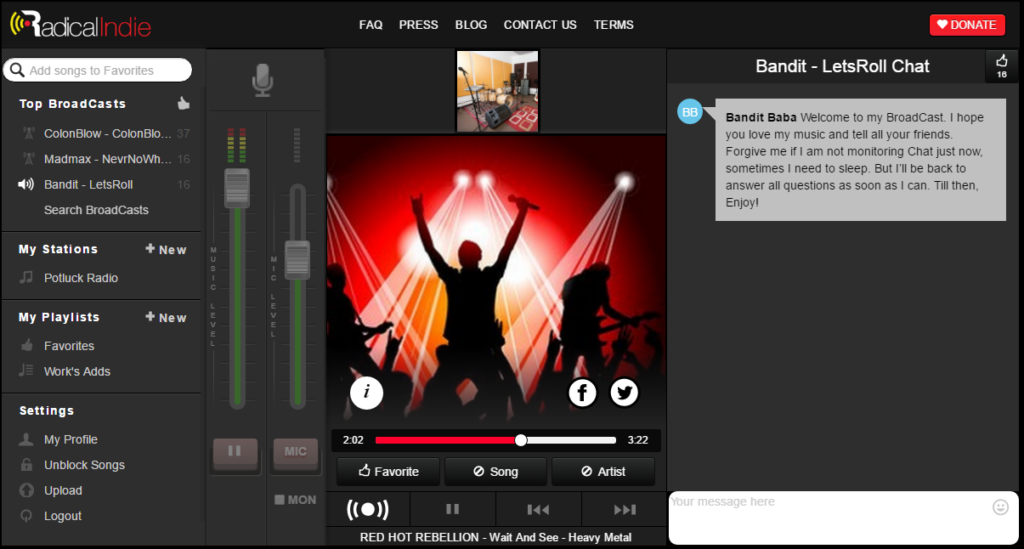 ---
Radical.FM relaunched as Radical Indie this week, fulfilling a plan that started with a November shut-down of the previous online radio service to develop personal broadcasting features. Although the development and relaunch took longer than planned, the new platform works impeccably according to our testing.
Radical Indie offers personal brodcasting of music or talk programs, or a mixture. Individuals can set up radio-style streams in which they announce songs and perform other voice breaks, or talk over the music. We quickly found three such streams in our test, and were impressed by an instant-message chat feature that runs in the player. The platform is fun and engaging. We encountered some spoken-word outbursts that were NSFW.
Legacy features of the previous Radical remain — you can build playlists semi-interactively by choosing music categories. song skipping is supported when listening to playlists; not in live broadcasts.
"By allowing users to create live BroadCasts with personality and legal content, Radical Indie is catapulting old school radio into the internet age," said founder Thomas McAlevey.
Radical Indie is positioning itself as an artist-friendly platform where musicians can upload tracks, offer them for download, and link users to file purchases on iTunes and Amazon. Musicians keep 100% of any revenue derived from those sales. Radical also supports SoundCloud imports, so artists can load entire collections into Radical Indie and expose them in broadcasts and downloads. We can imagine indie musicians setting up regular broadcasts promoted to their mailing lists, perhaps performing live, and exploring unique fan engagements.
Founder Tom McAlevey is situated on the island of Palawan, where he operates a non-profit community radio station.