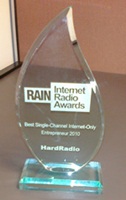 This week we are revealing finalists in the Sixth Annual RAIN Internet Radio Awards. Today we are pleased to announce the advancing finalists in the "International Excellence in Online Audio" category.
The single winners of all six categories will be revealed and honored at RAIN Summit Atlanta on September 29, as the gala closing session of the day-long conference.
This category celebrates outstanding accomplishment in streaming audio among services not based in the US.
The RAIN Awards use a self-nominating system; all contenders submitted their own programs.
Congratulations to this year's finalists (in random order):
Karnaval: Turkey's largest online radio platform, launched in February, 2012. Twenty-six radio stations are included, and nearly 4-million apps have been downloaded.
MJoy Radio: MJoy Radio is a Ukrainian company specializing in multimedia technologies. The company motto is to create and develop projects that unite audiences.
Planet Radiocity: India's largest online radio company, encompassing 21 radio stations. Seventy percent of listeners are in India; the rest is a global audience.
Thanks to all of our nominees. The RAIN Internet Radio Awards recognize the achievements and the best practices of the Internet radio industry.
RAIN Summit Atlanta is the premiere educational and networking conference for the Internet radio and online audio industry and a partner event of The Radio Show. Jake Shapiro, CEO of PRX, will keynote the event. Discussion panels will dive deeply into podcasting, simulcasting, mobile, and programmatic. Joins us for the industry's leading knowledge sessions, the networking, the AWARDS, and the best cocktail party in the industry.