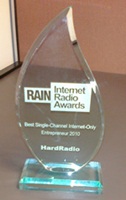 This week we are revealing finalists in the Sixth Annual RAIN Internet Radio Awards. Today we are pleased to announce the advancing finalists in the "Best Overall Digital Strategy" category.
The single winners of all six categories will be revealed and honored at RAIN Summit Atlanta on September 29, as the gala closing session of the day-long conference.
This category celebrates the broadcast station, broadcast group, or online-only webcaster that has implemented the finest overall digital strategy. Judges may consider mobile, streaming, websites, downloads, video and/or other features.
The RAIN Awards use a self-nominating system; all contenders submitted their own programs.
Congratulations to this year's finalists (in random order):
NPR: NPR's websites feature responsive design for mobile access, and the NPR One app is a celebrated mobile source of personalized news.
TuneIn: Serving over 50-million global users, and streaming over 100,000 radio streams, TuneIn recently launched a Premium tier of new content.
PRX: Home of Radiotopia, PRX is the largest market of independently produced audio programs for public radio.
Thanks to all of our nominees. The RAIN Internet Radio Awards recognize the achievements and the best practices of the Internet radio industry.
RAIN Summit Atlanta is the premiere educational and networking conference for the Internet radio and online audio industry and a partner event of The Radio Show. Discussion panels will dive deeply into podcasting, simulcasting, mobile, and programmatic. Joins us for the industry's leading knowledge sessions, the networking, the AWARDS, and the best cocktail party in the industry.