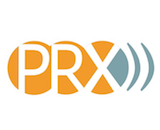 PRX-owned Radiotopia is adding two programs to its curated portfolio of podcasts:
The West Wing Weekly — a throwback fancast which offers a week-by-week discussion of the TV drama The West Wing. The podcast is established, and joins Radiotopia at the start of season two. TV star Bradley Whitford guest-appeared on the second-season pilot.
The Bugle is a satirical comedy show founded by John Oliver and Andy Zaltzman. this long-running, popular show began in 2007, and reportedly enjoys over a million monthly downloads. John Oliver, busy with his HBO show Last Week Tonight, has stepped down and is replaced by a rotating cast of co-hosts. Andy Zaltzman is the brother of Helen Zaltzman, best known for her The Allusionist podcast.
"Bringing on The West Wing Weekly and The Bugle is an exciting development for Radiotopia," said Julie Shapiro, executive producer of Radiotopia. "The decision is in keeping with our mission to support the best independent and entrepreneurial talent in podcasting, and to uphold top quality content across our shows. These shows help us expand into new areas of entertainment, political news and satire, which will ultimately s build on the existing Radiotopia brand and bring new audiences to all shows within the network."