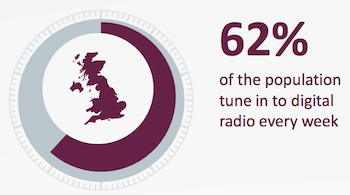 The Q4 RAJAR results round out a year of strong digital radio performance in the UK. The quarterly data showed that 48.9 million adults, or 90% of the adult population listens to their station of choice each week. That figure has hovered around 90% since 2011. Listeners consume an average 21.3 hours of live radio each week.
On the digital side, 62% of the adult population is listening every week. More than 3 in 5 adults are listening to radio and 34 million people are tuning on each week on a digital receiver. Total digital listening hours reached 518 million for the period. Digital radio's share of all radio listening has risen over the years, reaching 49.9% in Q4 2017, up from 45.2% in the year-ago period. DAB sets are responsible for 73% of digital listening, or 377 million hours. Online listening reached 88 million hours for a 17% share, and DTV secured a 10% share with 53 million hours.
The RAJAR data also pointed to a mobile listening trend, particularly among the younger ears. Across all UK adults, 26% listen to radio on mobile phones or tablets. For the 15-24 age bracket, the rate jumps to 35%.