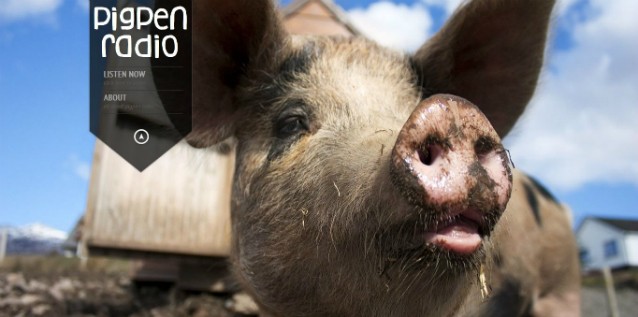 Today's Pureplay of the Day takes you off the beaten path — way off. Pigpen Radio started in 2011 as an offshoot of Pigpen Social, a fundraising event in England that features live music. the station is based in Bristol, U.K.
The Pigpen organization has a mission that includes "promoting the local music scene, raising funds for local and international charities, increasing awareness of important global issues, encouraging unselfish concern for the welfare of others, and improving happiness and well-being." With that uplifting mandate in mind you can listen to Pigpen Radio knowing that you're participating in good works.
The station is free, and does not solicit donations or run ads. costs are kept down by avoiding music licensing — legally of course. Pigpen Radio plays submitted tracks from indie bands which own their work and want it heard.
The entire Pigpen Radio experience is an exercise in purity, from the all-indie playlist to the beautifully simple website, and the ease of its built-in player. Streaming has been flawless in our testing. Today we have enjoyed a stream of unknown-to-us bands including: Skrufz, The Talks, Laid Black, Leafnuts, Ewan Hoozami, Ruckus Collective, Mighty Mystic, Nebuzz, Biga Ranx, Joshwha Moses, Fat Pedro. We tried ID'ing some of the music with Shazam and SoundCloud, with mixed results.
Time for some new sounds for adventurous ears? Pigpen Radio disregards genre classifications, and if you listen for one hour you'll whip across genre boundaries in an exhilarating sonic experience.