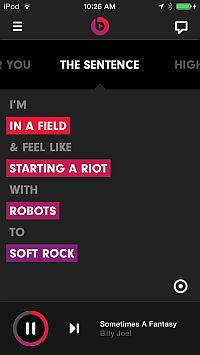 Beats Music is reportedly signing up subscribers at a slower pace than hoped, according to record-label sources cited by Billboard.
One month ago, Beats was said to be signing up new subscriptions at a rate of 1,000 per day, and converting 70 percent of free-trial users to paying customers through AT&T's mobile distribution. By contrast, SiriusXM disclosed in a recent financial filing that it converts 45% of its trials. subscription rate and conversions rate are key metrics for Beats, which is a subscription-only service — unlike competitors Spotify and Pandora, which monetize non-paying users by selling commercials into their music streams.
Despite the apparently successful conversion rate for Beats Music, the Billboard report says that labels are "grousing" about how the business is pacing. Beats is taking one costly step to streamline the sign-up process: the service now allows users to sign up within the iPhone and iPad apps. That might seem obvious, but Apple receives a 30% cut of all transactions that occur within apps on its iOS platform. Many subscription apps (e.g. Next Issue for magazines, Hulu for video), force customers to sign up on a website, not within the app. Music service Rdio allows in-app sign-ups, but charges a 50% premium ($14.99 vs. $9.99) to make up for Apple's 30% commission.
By acceding to Apple's business structure, Beats Music appears willing to swallow a 30% reduction in some of its subscription revenue to remove the inconvenience hurdle of web sign-ups.
In related competitive news, we reported last week that Spotify and Sprint are preparing a music-bundling agreement that will probably be similar to the arrangement Beats Music has with AT&T. AT&T is the second-largest mobile phone company in the U.S. with about 110-million users; Sprint is third with 54-million.
On another note, Deezer and Samsung started a partnership which gives Samsung phone users a six-month free trial of Deezer music. Deezer is a non-U.S. service as of now, so not a Beats Music competitor. But the Deezer-Samsung deal could underline the importance of a long trial when addicting users to an interactive service in which they accumulate equity by saving music and building playlists. When Beats Music launched in January, it offered a two-week free-trial period.