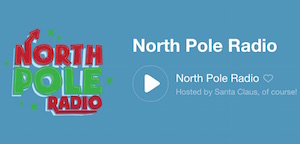 iHeartRadio is getting in the holiday spirit this month with a new Christmas radio station. North Pole Radio offers round-the-clock yuletide cheer, with a 24/7 rotation of holiday songs. The tunes are mostly high-energy, kid-friendly fare; think "I Saw Mommy Kissing Santa Claus" or "I Want a Hippopotamus for Christmas." The soundtrack to "A Charlie Brown Christmas" offered some of the few quieter notes.
The station takes the unique angle of having the big man in red as the host. Santa and his elves provide charming between-song banter. Some of the jokes are pretty clever, such as riffs on the hit movie "Frozen."
In another unique angle, the station encourages its listeners to call in or tweet at Santa. Kids can share how good they've been or just say hello. It seems Santa is an avid Twitter user; some of the responses to fans are very cute.