Edison Research has spun out a new segment of The Infinite Dial 2014 survey, co-produced with Triton Digital. The Infinite Dial main report was issued on March 5, and deep dives have been released periodically since then, revealing details of certain demographics and consumer segments. This week, Edison put up some interesting insights about Public Radio P1's (frequent listeners). A Look at Public Radio P1s.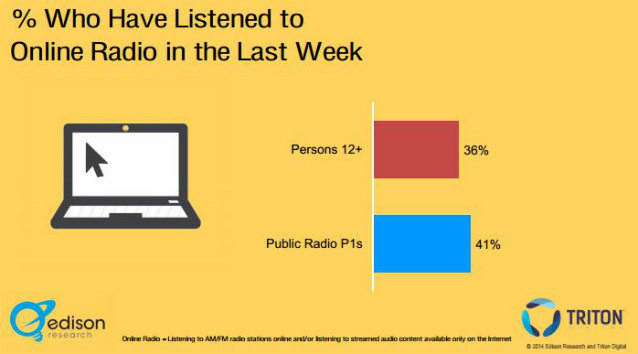 The information begins with a broad demographic definition: Public Radio P1's are older than the general (12-years-up) population, with an even gender split. There is a high rate of connectivity: 91% of the study group has Internet access at home.
Along with that high connection rate, Public Radio listeners are aware of online radio services, and use them at a higher rate that the general survey population. forty-one percent of Public Radio listeners answered that they listened to online radio in the previous week, vs. 36% of all adults.
There is a higher than normal awareness of Pandora, but about the same amount of listening to it. Public Radio P1's are slightly less aware of iHeartRadio than the general population. and listen to it much less (only four percent of Public Radio listeners use iHeart monthly). Pandora and iHeart Radio are the two most-recognized streaming services in The Infinite Dial study.
The Public Radio segment uses YouTube for music in exactly the same percentage (33%) as all adults.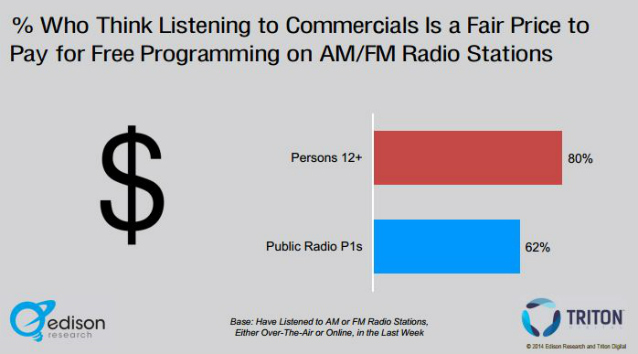 Interestingly, and perhaps predictably, Public Radio listeners have lowered tolerance for radio commercials. Compared to 80% acceptance of commercials among all U.S. adult respondents, Public Radio P1's approve at a 62% rate. (Still a majority.) When asked about a preference between infrequent long commercial breaks and frequent short breaks, the Public Radio cohort chose long breaks at a higher rate than the larger population — and there was also a greater percentage of "Don't Know" answers.
Finally, Public Radio listeners show a higher rate of social-network adoption, in Facebook, Twitter, LinkedIn, and across the board.