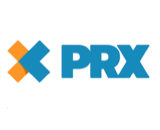 PRX has hired two new additions to its leadership team. Charlotte Cooper joined as director of audience growth and marketing effective August 1. Jason Saldanha will assume the post of content director on August 12.
Cooper will be responsible for audience growth and marketing efforts related to expanding reach. She will develop strategies for both PRX and Radiotopia's programming. Cooper has experience in increasing membership and engagement from her time at New York Public Radio.
"PRX has defined themselves through an expansive definition of public media and a commitment to ensuring content is available to all," Cooper said. "I'm delighted to join this team and to help an ever-growing listening audience find reporting and storytelling that will bring them joy and enrich their lives."
Saldanha joins from the Chicago Humanities Festival, and has credits working on Sound Opinions, The Man in the High Castle, and How to Be Amazing with Michael Ian Black. In his new role, he will oversee broadcast productions and podcasts for PRX as well as the PRX Remix service. He will also head up content partnerships.
"I'm excited to join the team at PRX," said Saldanha. "I believe PRX represents the vanguard of audio producers, creators, and distributors in the world today."