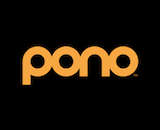 Neil Young recently announced that Pono Music will turn into a streaming service. The distinguishing factor here is that Pono is promising adaptive bitrate streaming. In other words, the streaming service will always play the highest quality bitrate available on the listener's Internet connection. The audio quality may range all the way up to 192kHz, 24-bit sound, which is "six times that of Tidal and around 30-100 times more than Spotify," according to Engadget.
"You'll be able to move around and there won't be any break in the music, but the resolution of the sound will change and you'll be able to tell what happens when you look at your screen," Young said in an interview with Rolling Stone. He added his own dig at existing streaming services, saying that he hoped Pono would "educate people on the difference between high-resolution music and regular streaming level music, which would be the bottom level for our streaming service."
Young may be willing to talk a big game and throw shade, but he's not working with a pristine slate either. This shift is happening after an oddly quiet couple years for Pono. The company launched to great fanfare in January 2015 after a massive crowdfunding effort. Then this year in July, Pono lost its content provider when Omnifone went into administration, and its digital download store is still shuttered for the migration to 7digital more than four months later.
The adaptive bitrate is a clever idea for appealing to audiophiles, but there are several technical questions left to be answered. First, on a practicality note, only so many setups can support playback of the maximum bitrate, both in terms of Internet connections and in standard audio headphone jacks. And given Young's plan to encourage mobile listening, he's banking on some questionable assumptions of what sort of headphones listeners might own and use while on their phones.
Second, Young hasn't shared any information about when the streaming component might launch or how much it would cost. It's hard to guess how well the conversion will go from a downloads only business to a streaming business. On the one hand, Pono received a huge influx of funding from lots of eager fans. But on the other hand, the company has seemed directionless and Young's misunderstanding of the increasingly popular and crowded streaming market make this a dubious proposition at best. Couple that with the growing body of research showing that many listeners can't tell the difference between low-resolution and high-resolution audio files, and the Pono value proposition is murky at best.