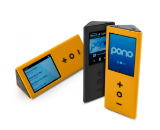 Neil Young wrote an update about his hi-res Pono Music company on Facebook. Young gave nods to the other brands Pono works with, both in and out of the music industry, but explained that the company has many partners but "no proven business leader," in his own words. "The search continues for one who could do it to our liking and understand what our goal is and how big it is." He added that Pono is working to set up shop in multiple countries despite a lack of resources.
It is a lengthy post heavy on rhetoric and light on information, such as how it will generate the funds to undertake the promised global expansion or what the company has done with the millions it raised in crowdfunding. "The news is that music will be recovered, it will live again, free of the constraints of the low technology from the dark ages of music media," he wrote. Interestingly, the fan response in the comments appeared evenly split between supporters and detractors, further reinforcing how divisive this service is.
The company recently announced that it will offer listeners free upgrades to their past purchases when higher-resolution versions become available.