Podtrac has released the June edition of the measurement company's Top Podcast Publishers ranker. (See graphic below.) Many publications make noise about NPR reclaiming the #1 spot from iHeartRadio (and we hereby note it dutifully), but these two podcast powerhouses are separated by a small fraction of the key metric, US Unique Monthly Audience, and they flip back and forth.
Podtrac didn't mention it, but did include the following key notes on the June report:
Fifteen of the Top 20 publishers saw an increase in US monthly Audience in June over May.
All but three Top 20 publishers saw positive growth in their Global Download numbers from May to June.
The average Unique Monthly Audience for the top 10 publishers increased by 4% from May while it increased by 21% from June of 2019.
Global Unique Streams & Downloads increased for the top 10 publishers by 5% over May and increased by 64% over June 2019.
Below is the Podtrac ranking graphic. Scroll down for RAIN's remix of the average audience per active show for each publisher.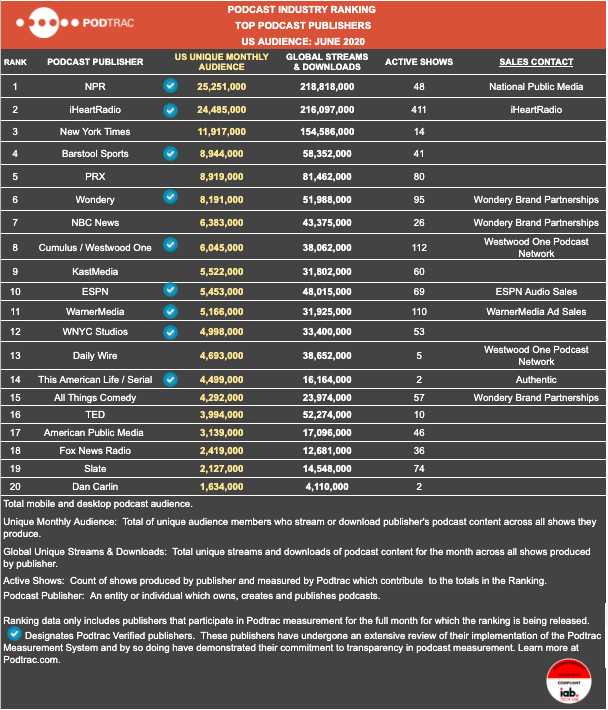 We enjoy remixing the Podtrac Top Podcast Publishers chart, with an eye to number of active shows. It is clear, on the face of it, that some publishers strategize around piling a big audience into a small number of shows (e.g. This American Life / Serial), and others build out extensive networks and spread audiences through a big portfolio (e.g. iHeartRadio).
The following remix has two portions. In the top part, we see a new  ranking based on average unique audience per show. The bottom portion remixes to global streams and downloads per show.