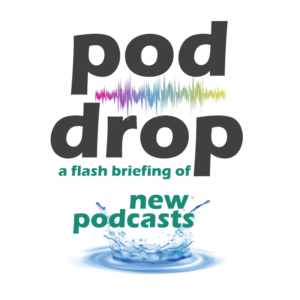 Pod Drop features new and returning podcasts. Today — the harrowing and heartbreaking story from the old south, fascinating interviews with National Geographic celebs and showrunners, and daily doses of gratitude.
---
Unfinished: Deep South
(Stitcher)
This documentary is the sad, horrowing, distressing story of Isadore Banks, who was lynched in Arkansas at the dawn of the civil rights era. At a time when both BLM-themed shows and history shows are proliferating, this is one of the finest productions we have encountered.  This podcast is hosted by journalists Taylor Hom and Neil Shea, who join members of the Banks family on a quest to find out who killed Isadore Banks, and to restore his legacy. What they find shakes a small Southern town from its silence, explores the story of African American prosperity on the Delta, and traces the roots of racial terror from Isadore Banks' day up through our own.
[APPLE]
trailer:
Consider This
(National Geographic, Benztown)
This podcast features interviews with teams which produced NetGeo's Emmy-contending shows. That might seem mainy self-promoting, but the conversations with Neil deGrasse Tyson, Keegan-Michael Key, Gordon Ramsey, Jeff Goldblum, and others add up to a fascinating interview show, regardless of ulterior marketing motives. This thing is hosted by award-winning journalist Stacey Wilson Hunt. Her smooth and skilled interviewing reaches beyond the celebrities to showrunners, directors, producers, writers, composers, production designers, costume designers, and directors of photography.
[APPLE]
excerpt (no trailer):
The Gratitude Diaries
(iHeartRadio)
This is a daily series of short (5-7 minutes each) inspiratinal talks. Falling in the self-improvement category, this show is the work of Janice Kaplan, who explores how gratitude can transform every aspect of life including marriage and friendship, money and ambition, and health and well-being. She gets into a bit of science (appreciating your spouse changes your neurons, which makes it a little depressing to consider the normal state of our neurons) — and, of course, gratitude is the preeminent state of being in this show. Kaplan offers practical, down-to-earth tips on how to add gratitude to your everyday life.
[APPLE]
trailer:
.