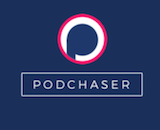 Podchaser, a database of podcasting which could be compared to IMDb for movies, is announcing a double acquisition of Podcharts and Podrover. (Illustrating that "pod" is overused by startups.)
Podchaser is a multi-faceted discovery platform, self-described as "the world's most comprehensive podcast database —  collecting, enriching, and distributing podcast insights to power discovery for listeners, podcasters, and brands." You can search for any person you think has been a podcast guest, for example, and Podchaser will deliver a list of those appearance episodes, with a Play button next to each. Users can also create podcast lists, similar to Spotify playlists, and make those lists public and shareable — bringing a social media aspect to the platform.
Podchaser says that the two subsidiaries will continue as stand-alone services, and promises new features in the pipeline. Podchaser will also grab elements of the two acquired companies for integration into the Podchaser feature set.
Podcharts is a service that allows sers track podcast charts and rankings across popular apps like Apple Podcasts, Spotify, and Stitcher. Charts are broken down across categories, location, and platform with historical data available to view trends across time. Signed-in users can track specific podcasts and receive updates on their movements in each chart.
Podrover is an app service helping podcasters track, organize, and share their podcast reviews across multiple platforms including Podchaser, Apple Podcasts, and Stitcher. Podrover automatically brings in reviews and sends notifications when a new review is posted. Podcasters use it to organize and view all of their reviews in one spot.
.