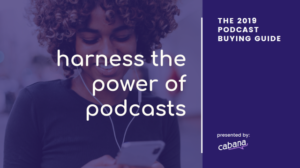 AdLarge's podcast division, cabana, has released its latest Podcast Buying Guide, and kindly given RAIN an advance look at it. This type of document is always intended to promote the authoring company's business via a blast of information that educates the market. To our eyes, cabana's Guides previous Guides have been marvels of lucid explanation that seriously seek to raise technical and strategic knowledge. Same with this one, which is more ambitious than the previous edition, presenting a deeper dive into technicalities while keeping a high standard of clarity.
A literary conceit is in play with this guide: Podcasting is growing, and shines with an attractive sheen to marketers. Hence, podcasts have "glowed up." The idea is to elucidate the "glow" with transparent explanations of downloads, impressions, standards, and ad tech. The report uses research from Edison Research, the IAB/PwC annual projection of podcast revenue, and Nielsen.
"Approach long term campaigns not as an "ownership" opportunity, but as a chance to build a relationship with the audience and establish familiarity." –cabana Podcast Buying Guide
A FAQ section is called "Ask an Ad Ops Expert" represents what cabana says are the most-asked questions about podcast advertising. The section demystifies podcasting for new advertisers and marketers who have limited (or zero) experience with the many types of podcast advertising.
Dynamic Insertion (DI) forms the technical pillar of the cabana Podcast buying Guide. More than simply promoting the availability of real-time insertion of timely and relevant sponsorship messages in cabana podcasts, these explanatory pages offer a flow chart of how an advertiser might consider or choose DI for a campaign (as opposed to live host-read sponsorships that are permanently affixed to the podcast).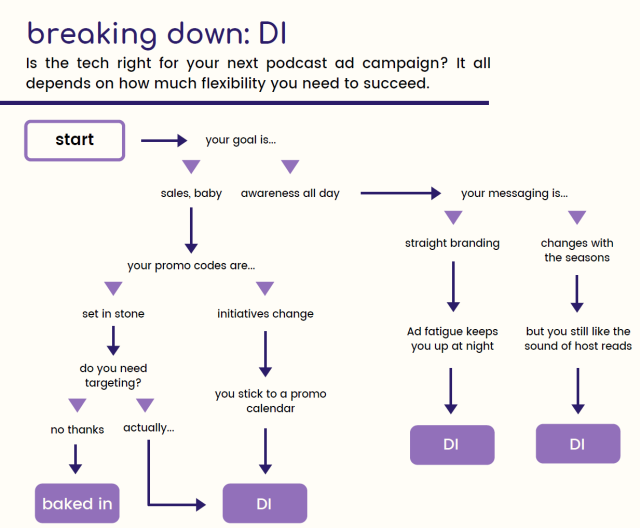 The guide is rounded out with three case studies of effective podcast ad campaigns. Like many case studies, these are anonymized — we know the categories of sponsor and podcast, but not the brand or show title.
The examples evangelize a good fit of sponsorship message with the topic and tone of a podcast. Here, we see a summary of a not-for-profit seeking to raise awareness of a deadly disease advertising in a true crime show — not the most intuitive match, but the particular show was more about vigilance than gore, and listeners made the campaign viral on social media.
In another case, a vitamin company advertised on an American history podcast, partly because of the host's authentic and engaging treatment of the copy.
Finally, a CPG made its first podcast marketing campaign using dynamically inserted ads in a show where the host had a big social following. There too, virality ensued.
The cabana Podcast Buying Guide is available HERE.