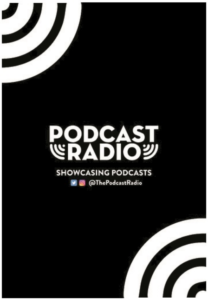 Podcast Radio, a venture to broadcast a 24-hour podcast schedule on DAB in London, is up and running. The project was introduced at RAIN Summit Europe last November.
GO HERE to stream the station live. The station is a brainstorm of CEO Gerry Edwards and consultant Paul Chantler.
The potential audience for the station is estimated to be 12-million listeners.
"The popularity of podcasts and live radio is intoxicating," Chantler said. "Radio is a natural way for people to sample different podcast content and find out what they like so they can download more episodes."
Gerry Edwards serves the stream as a podcast disc jockey — a "pod jock" if you will. "
"I'm excited to combine my love of podcasts with radio. We already have a wide variety of podcast partners to provide content and this will be growing over the next few months as we bring on some big names. The aim is more effective discovery," he said.