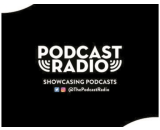 We got a note from Podcast Radio, the all-podcast DAB+ radio station in the UK, announcing an expansion of the London-based station to Manchester starting June 1.
Along with that growth, Podcast Radio is adding shows from the Evergreen Podcasts network to its broadcast lineup. Evergreen promotes 40 podcasts on its website. Categories range across storytelling, arts, thought leadership, and more. The network will contribute several of its top-rated shows, including Rebel Force Radio (it's about Star Wars) and Burn the Boats (failure-to-success stories).
Michael C. DeAloia, CEO of Evergreen Podcasts, noted: "We've been impressed by the concept and ambitions of Podcast Radio so we want to feature some of our podcast series to raise their profile among UK listeners."
Podcast Radio launched last November with an announcement at RAIN Summit Europe in London. It is a full-time, all-podcast station. Started with a DAB+ license for London, adding Manchester significantly enlarges the station's addressable market.
Podcast Radio CEO Gerry Edwards says: "We're all about helping people with discoverability. With one million podcasts out there, listeners are bewildered by too much content and choice. Podcast Radio acts as a trusted guide to some of the more interesting and entertaining podcasts."