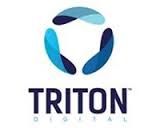 Triton is announcing this morning that podcast content and hosting company Audioboom is joining Triton Digital's measurement system, and will be represented exclusively in Triton's international series of Podcast Reports — U.S., Australia, and Latin America (LATAM).
Podcast publisher networks are cited in the ranking published by measurement companies if they are measured by those companies — that's the main way of opting in. There can also be opt-outs of rankings. Whatever back-end services Audioboom uses, the point of today's announcement is that Audioboom will appear in Triton's reports exclusively.
Triton can claim to represent NPR, Stitcher, Wondery, Nova Entertainment, Prisa Radio, Radio Grupos Global, Cumulus Media in its Podcast Reports (not necessarily with exclusivity in any of those cases).
And while it might seem obvious at this point, Triton does point out that its  measurement complies with the IAB's Podcast Measurement Technical Guidelines, version 2.0 (informally known as "IAB 2").
"We are pleased to measure Audioboom, and to have their titles included in our U.S., Australia, and Latin America Podcast Reports," said John Rosso, President of Market Development at Triton Digital. "We are confident that our Reports will provide Audioboom with the validated data they need to further enhance their podcast business, and increase their visibility within the global podcast landscape."
"We are thrilled to participate in Triton's Podcast Reports, as approaching the marketplace with validated and transparent measurement remains a critically important component of our overall podcast strategy," said Audioboom's CEO Stuart Last. "Audioboom is a global leader in podcasting and there is no better partner than Triton Digital to provide the measurement that will enhance our relationships with brands and increase our advertising revenue in our key territories."