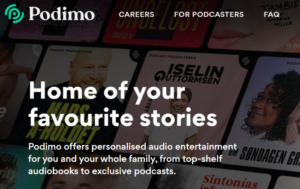 Copenhagen-based Podimo has received a Series B funding round of $78-million dollars, led by 83North and Highland Europe, with participation from existing investors Chr. Augustinus, Heartcore, Saban Ventures, Headline, and Possible Ventures.
Since 2019, the company has raised $115-million. The new money will be used to enter new markets, create new content, and increase payments to creators.
Podimo operates a few different lines of business. The Podimo app functions as a general podcatcher where users can listen to the whole open-RSS ecosystem. There is also a subscription level for listeners who pay to hear exclusive-to-Podimo shows — they include podcasts that Podimo has produced. There are over 950 of those owned-and-operated podcasts.
Subscription money is shared with creators who distribute exclusively on the platform.
The company also is in the translation business, offering podcasts regional expansion. Examples include The Missing and Swindled.