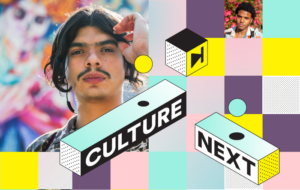 In a thick and newly released report called Culture Next 2021, Spotify delivers research results that focus on the Millennial and GenZ demos, and how their media consumption trends can appeal to advertisers. The piece is meant to pronote the marketing opportunities in Spotify Free, the semi-interactive ad-supported tier of the global streaming service. (The infographic-like deck is freely available HERE.)
A section on podcasting puts focus on the independence from traditional media practiced by young users. "Podcast creators are fast becoming the front page, the 6 o'clock news, the silver screen, and the classroom for a new  generation of 'cord nevers'," the report asserts — and 18% of GenZ's in the study identified as cord-nevers.
Podcasting, of course, falls into the cordlessness of young audiences. Gaming does too, and Spotify notes that many Millennials and GenZs discover their music while playing game consoles equipped with Spotify Free. spotify calls this "Blurred Lives." Time spent streaming Spotify from gaming consoles increased 31% year-over-year in the first quarter.
An emphasis on podcasting flavors the Culture Next report. The traditional intimacy factor, which recognizes a relationship connection between host and listener, is emphasized here, as in pretty much all studies of podcast advertising effectiveness. Wil Dasovich, host of the SUPERHUMAN podcast, is quoted saying the relationship of host and listener is "as personal as it can get."
Interestingly, 76% of American Millennials believe the actual voices of podcast hosts can make or break a podcast.
When it comes to brand lift and consumer actions in response to ads, Spotify puts forward these survey numbers: Forty-one percent of global listeners said they trust podcast ads more than ads in other mediums, and 81% report that they've taken action after hearing a podcast ad.
While this report is targeted to digital audio ad buyers, it is freely available to anyone, HERE.
.