In a UK-based consumer survey report based partly on podcasts and partly on digital audio generally, results indicate that marketing in both realms is beneficial to advertisers, and in many respects is superior to TV advertising. The research was conducted by MAGNA and funded by Spotify — thereby serving as an eloquent and nicely produced piece of collateral for Spotify's advertising sales division. (The report deck is freely available HERE — the link downloads the PDF.)
The report is titled Peak Openness, referring to listeners and their receptivity to audio marketing. The eyes-off nature of audio is part of the receptivity equation, according to the survey results, which says that digital audio listeners over-index for receptivity — 107 compared to an average of 100, while video scores 93.
Attention and action are two other criteria for measuring receptivity. Again, audio bests video in both: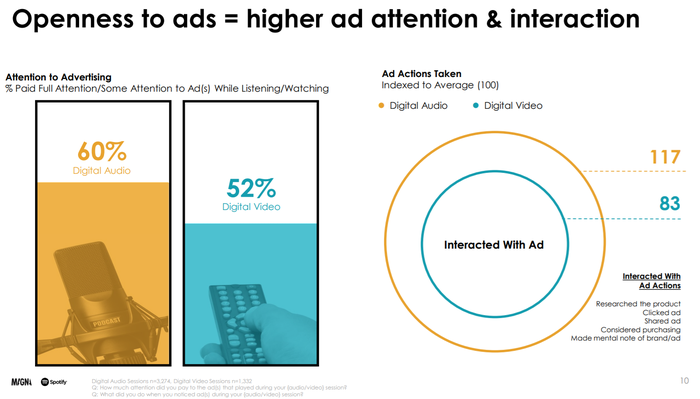 Superior openness and receptivity carry across to all 11 verticals in this report.
After establishing that digital audio can deliver superior attention and actions, the report drills into podcasting. The comparisons to TV continue there, with one interesting question revealing that listeners are more up-to-date with their podcasts compared to TV shows — 66% to 55%. And, in keeping with a hallowed value of podcasts, listeners in this survey claim "intimacy with the host" as one reason for their dedication to listening. (Again, beating TV by a lot.)
The question of ad receptivity, when applied to podcasting as a particular type of digital audio, delivers an even more stark superiority over TV. People are three times more receptive to ads in podcasts, the report claims, with a third of listeners reporting they are "very receptive.")
Report download HERE.