Westwood One released its 2020 Audioscape, a roundup of listening and device-use trends from Q3 of Share of Ear — an ongoing subscription research project produced by Edison Research.
The headline point is that podcast listeners spend more time with the entire audio realm than non-listeners to podcasts. Here's the graphic: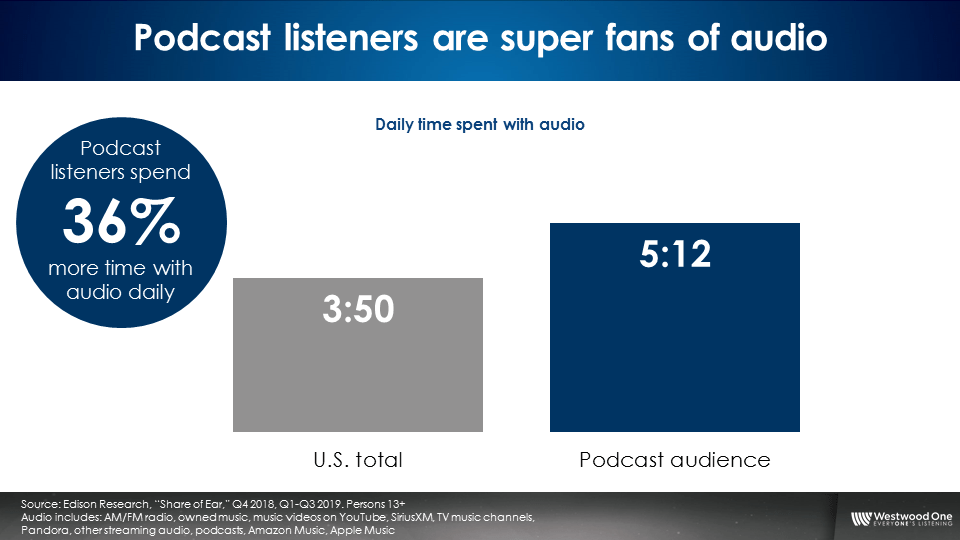 Related to the above finding, and not surprisingly, podcast listeners mostly listen to podcasts when all audio sources are considered. Considering time spent, podcast listeners spend 28% of their audio time with podcasts.
The study also found that podcast users are attracted to news and personality-driven talk show more than non-users of podcasts. So, while podcast listeners slightly under-index for music programming, they over-index for news (+50%) and sports (+123%).
And this is really interesting. Podcast listeners are more likely to own smart speakers … yet smart speaker owners don't use those speakers for podcasts very much. The top audio programming choice among smart speaker owners is AM/FM radio (keeping in mind that some of the main use cases in smart speakers is not formal audio programming at all, but utility use such as time and weather.)
The Westwood One blog post by Lauren Vetrano is HERE.