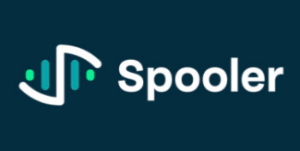 Imagine you're listening to a news podcast, and friend sitting next to you is listening to the same podcast — but you are hearing different pieces of content. That scenario coud happen with shows produced on Spooler, a new podcast tech service.
Spooler is the work of Andy Bowers (formerly at Sate), James Boggs (formerly Apple), Henry Blodget (CEO of Insider), and Axel Springer.
The key idea of the Spooler production platform is the ability to update a shows' content … after it is published, according to Axios. (We first learned of this from Podnews, media partner of the RAIN Podcast Business Lunch.
Another scenario, besides two people listening to the same/different podcast, involves updates of a news program throughout the day. Consider listening to a morning news podcast at 8am, then checking the same podcast (no new downloading) at noon for new segments.
In pondering this, we can't help thinking about podcasts which land on rankers of most-downloaded shows, whose status is assisted by an hourly publication schedule. In Spooler, we speculate, that podcast would be downloaded once, and kept current throughout the day. And what happens to advertiser metrics in that scenario, we wonder.
HERE is a demonstration podcast.
.