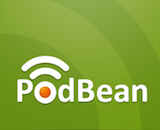 Podbean has launched its own supply-side platform for programmatic advertising. Its new PodAds service will offer targeted ad buys that are dynamically inserted into podcasts hosted on the network. Advertisers and media buyers can use PodAds to set their ad budget and select the shows to run them on by their desired geographic and category areas. In a blog post announcing the service, the company dubbed PodAds "AdSense for podcasts," referencing the Google advertising product.
"We wanted to eliminate the friction involved in the usual podcast advertising process," Podbean CEO David Xu said. "The idea is to reduce the time and difficulty in matching advertisers to podcasts and running the ads. Not only does this make it easier for brands to run podcast advertising, but it provides opportunities for podcasts of all sizes."
Any podcasters on Podbean can opt into the PodAds system. They set the available ad slots and will be notified by the company if they are chosen for a programmatic campaign. They can opt out if they choose.