Podcast hosting company and listening app Podbean released a 2019 roundup indicating general growth of its publishing metrics and comparison of where its podcasts are being listened to. There are also interesting income figures for top-earning podcasts.
The company's hosting business grew 70%, downloads spiked 62%, and streaming app plays bolted upward by 110%. "You've probably heard this from other sources," Podbean says, "and our numbers definitely confirm a significant trend in growth."
Of particular interest is the diversification of podcast app market share. That's another way of saying that Apple's influence as a distributor is lessening, while Spotify is growing. In the case of Podbean-hosted shows, those two market share numbers are 42% and 14%: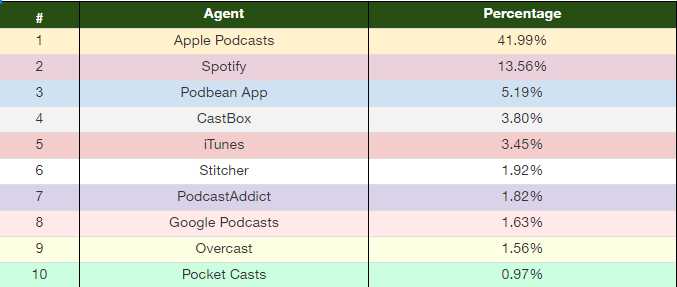 Another distribution indicator is iOS (apple's mobile system) vs. Android (Google's mobile system). iOS handled 58% of Podbean-hosted shows, and Android got 22%. A little over half of listens were in the U.S. — and the most interesting part of that number is 47% outside the U.S.
Podbean offers three built-in monetization tools for indie podcasters — subscription paywalls, patronage, and advertising. While the year-end discussion of these serves as an commercial for Podbean, the numbers shine an interesting light on how different income strategies work. Podbean says the ad service ("PodAds") brings in the most money (no breakout of how many shows use each monetization tool). Podbean cannot give a dollar amount there, as the company does not set (or apparently know) each podcast's CPM rate. The top-earning show using the patronage program (Now Playing Podcast) made $100,000 in 2019. In the subscription plan, the top show (A Man In Demand) pulled in $70,000 for the year.
The most popular podcast delivered by the Podbean listening app in 2019 was, unsurprisingly, The Joe Rogan Experience.