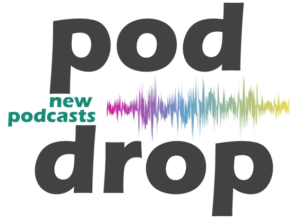 Pod Drop features new and returning podcasts. Today — heroism, wonders of the world, and the politics of food.
---
Servant of Pod with Nick Quah
(LAist)
This new podcast might make some listeners wonder what took Nick Quah, the host, so long to launch one. Quah is the founder and editor of the popular Hot Pod newsletter, a weekly long0form survey of the podcast ecosystem. In this chatcast, Quah talks with podcast creators "from major media institutions to mom and pop shops starting from scratch. His first guest is John Moe, creator of The Hilarious World of Depression, whose show suffered a COVID cancellation just before Servant of Pod launcher. Episode 2 guest: Avery Trufelman. [APPLE]
trailer:
Truth vs. Hollywood
(Audioboom)
Truth vs Hollywood is a critical look at the real story behind popular films that are "based on a true story." Hosted by David Chen and Joanna Robinson, the shows explore the films and compare their accounts with a historical reality check. The show notes put this in a more sweeping perspective: "In exploring the true story and how it was portrayed in the film, Truth vs Hollywood examines the larger theme of film vs real life." [APPLE]
trailer:
Land of the Giants
(Recode)
This is the second season drop of a Recode series which presumably will run for five seasons, each one examining one of the big-give tech giants: Amazon (first season), Netflix (the new season), Facebook, Apple, and Google. The show premise asks this essential questions: "These five tech giants have changed the world. But how? And at what cost? Peter Kafka and Rani Molla host the new season, and they explore the unique ways Netflix has disrupted entertainment and completely changed the way we watch TV. [APPLE]
trailer:
.