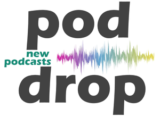 New podcasts of note:

Unsolved Mysteries (Cadence13 and Cosgrove/Meurer Productions) / True Crime / Weekly / Website / Apple
Based on the TV/Netflix show, a case of video-to-podcast. Narrated by award-winning Steve French, the Unsolved Mysteries podcast presents all-new unsolved cases.

New York Gritty (Blue Desk Productions) / Documentary / Limited Series (10 eps) / Website / Apple
It's about New York City during the pandemic — the resiliency and hope of New Yorkers in a time of crisis. Will they find a way to bring their city back from the brink of economic disaster, or has New York been irreversibly changed?

Tomorrow's Monsters (iHeartRadio) / Science Fiction / Weekly / Website / Apple
The U.S is the only country in the world that allows minors to be sentenced to life in prison without the possibility of parole. Approximately 2,500 juveniles have been effectively sentenced to die in prison.
…and one new season return:

Land of the Giants: Google Empire (Vox Media Podcast Network) / Technology / Weekly / Website / Apple
Google's dominance in everything from search and online advertising to YouTube and Android gives it tremendous power and responsibility. Explores how Google became one of the most powerful companies in the world and whether it has become too big for our own good.
.